Downton's Mrs. Patmore...
My own Mrs. Patmore, Emily...(who by the way, bought her wedding dress yesterday! Huzzah!)
Fabric: 100% cotton canvas from the Bargain Loft at Lorraine Fabrics in Pawtucket, RI Pattern: Butterick 5509 (View B/E) from stash
Total cost: 3 yds. x $1.99/yd. = $6
Year: The pattern is a "Making History" pattern, I intended it to be 1913.
Notions: None.
Hours to complete: 4 for the apron, 1 for embroidery
How historically accurate is it? Apart from the pleats in the bib and the foldover I feel like I pretty much re-created Mrs. Patmore's apron. And since I trust BBC costume designers and Julian Fellowes is positively OCD about the accuracy of Downton Abbey I'm going to guess the style of mine is fairly accurate. Not sure about the fabric.
I did however, notice that in the photos of her online she also has an apron with a more rounded neckline which might have been from an earlier season. Maybe that would have been more accurate for 1913?
Notes: I made this as a gift for one of my best friends who hosts Downton Abbey-watching parties. She lays out a full high tea and since she's been so generous I wanted to show my appreciation. The only thing I question is my fabric. Muslin seemed too thin but the next thickest thing I found that seemed good for an apron was canvas. Somewhere I read that ticking was a popular apron fabric but I think that was the 18th C. Any ideas you guys?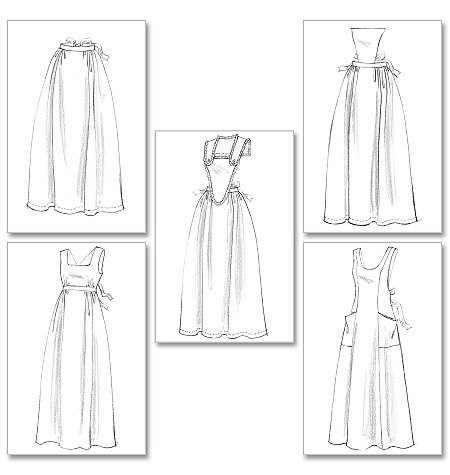 Alterations: I made the top right view minus the back skirt panels and plus the back straps from view E, which came out too close together. Since it needed to be plus size and this pattern only goes up to a Large, some re-drafting was in order and that mixed everything up. An error I made meant the bib was too tall, hence the foldover. I left out interfacing because my fabric was so thick and it was fine.
Pattern Rating: 3/5 Overall it was a good pattern and really simple to put together. I really disliked that the pattern only went up to a size large. Out of all the historical patterns that they don't offer as plus size, this shouldn't be one of them. It would be so easy to offer it in bigger sizes and an apron is something many historical costumers and re-enactors use! BAH. My only other annoyance was how the tie ends attach to the waistband. It looks terrible and I will do it differently next time.
I even embroidered her name on the back of the bib. That took an extra hour in itself but it was worth it! My embroidery is improving a lot! And I'm eager to make one for myself for my regency costume.