So for the last week of April, the challenge was to sew something based on a TV Character. I had so many ideas, so, so many. Mork and Mindy, Star Trek, Alias...I even had the pattern and fabric all ready to go for a Mork and Mindy dress but changed my mind because I'm pressed for time, what with my show going up next week. So, Three's Company won out, with Chrissy Snow being my specific inspiration.
The pattern (ironically also promoted by a TV star):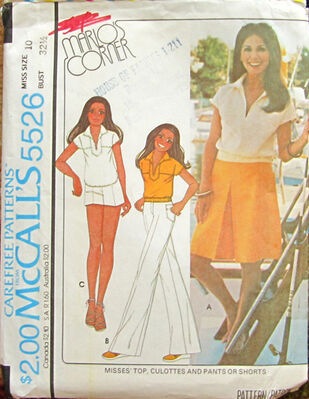 Fabric: Cotton broadcloth (shorts), old pillowcase (shirt), quilter's cotton (yoke of shirt)
Pattern: McCall's 5526, 1977 ($1.5)
Cost: About $5
Pros:
This pattern is super easy to make and very cute, for such a small amount of fabric (only 7/8 yd for the shorts!) The only closure is the fly front zipper and a button, which I replaced with a plain old snap. I'd never done a fly-front, and I have to say it was SO much easier than I expected! These are the ultimate pin-up style shorts, ladies, so if you need to make a pair, buy this pattern.
Cons:
You almost can't sit in the shorts (no wearing ease here!), whereas the top is rather boxy in its roominess. You also should wear the shorts with control-top nylons (as seen in my photos) or a girdle if you're not built like Mary-Ann on Gilligan's Island. The lack of give in the shorts may be because I had to interline them and the fabric has NO stretch. I'd like to try making the pants in some stretchy twill I've got just to see. Lastly, the waistband instructions are most odd. I ignored them and had to re-do it a couple of times but it all worked out in the end.