I actually did sew something for last week's challenge, Broadway/Musicals but I may wait to post it until the Halloween challenge because it was sort of a two-for-one. Unless I find time to make the cape to go with it, which I doubt. I actually suggested this week's theme, sleepwear! So of course I feel obligated to participate. However, when I unpacked my winter clothing last week I found I couldn't even fit all my pajamas into their space! I finally got matching pajama sets last year AND a granny nightgown for Christmas instead of just bottoms and old t-shirts so I have overload on pajamas.
What to do?
1. Robes - already have one. Could make a summer one, but it is going into winter right now, so no.
2. Granny Nightgown - I have loads of granny nightgown patterns, but I don't really wear the one I already have. It is VERY drafty and I tend to get twisted up in it when sleeping.
3. Sweatpants - Have 'em already!
4. Slips - This was a big possibility, as I really need a half-slip AND a new full slip, but I don't think you could count them as sleep/lounge wear. Also, I need to wait for another NYC trip to buy silk. I refuse to wear polyester slips, yuck!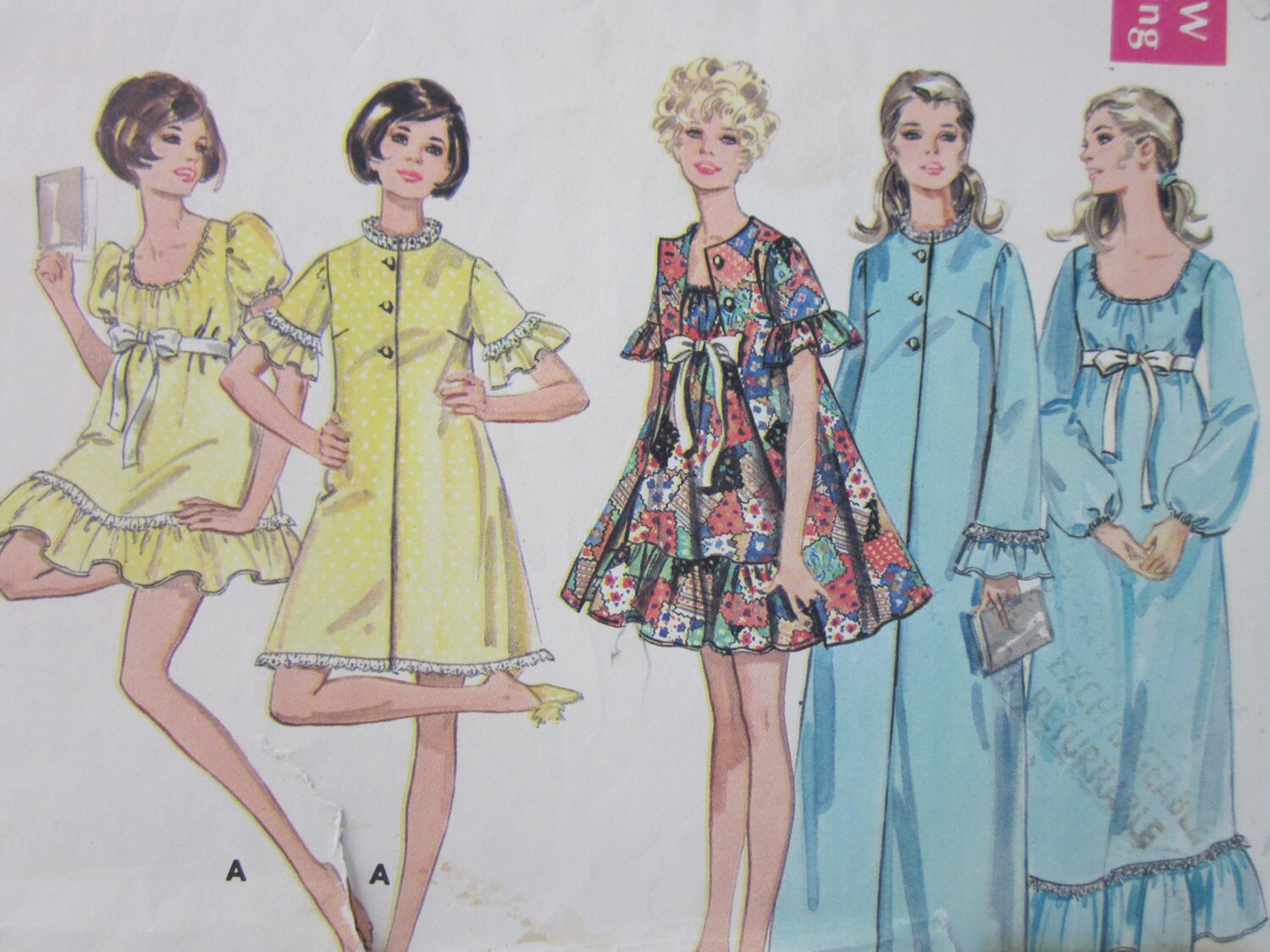 Then, fate brought me to this gem on Etsy! I know I said no to nightgowns, but a shortie nightgown could be fun! Usually I avoid them because they are designer with gather OVER the bust and when you are at all busty that is always bad.
Of course, I'd need to make some matching bloomers (or what they considered panties back then) and that adorable matching robe! Good thing I just got some eyelet super cheap at the thrift store. If only I can find some equally cheap fabric, and some time!
P.S.
- Even though I haven't finished the 1970s for Sewing Through the Decades, I think I want to make my way backward through all the years. Since the 1960s come next, the fact that this is from 1969 is perfect.
EDIT
I had to buy a peignoir robe pattern for Hairspray (looks like I'll be sewing a lot of sleepwear, apparently) and since the seller also had this OTHER, busty-friendly 1969 sleepwear pattern, I had to get it. Let's face it, non-granny nightgowns and non-teen styled shortie patterns are hard to find. Menswear inspired pajamas haven't changed enough to bother buying a vintage pattern (although of course I have several).
Ladies, this is dangerous. I may end up with even MORE pajamas.