I lost my
Simplicity 2364
. Not my pattern, but my actual shirt that I made from it. Sad, because I think it is the only knit top I've sewn. Of course, now I have the excuse to make a new one! I want to make several knit tops because that is mostly what I wear to my jobs. The dress codes range from business casual to whatever you want. I've already got this one on my Fall Essentials Sew-Along plan.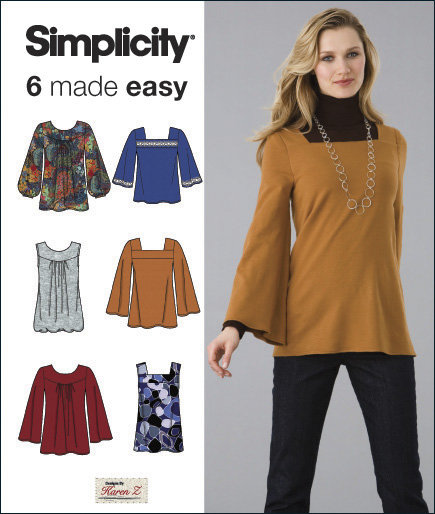 Then, this morning I found a McCalls pattern (6435) that I actually like as well!
I like the illustrated versions better than their mock-ups, which seem a little 90's skanky to me. Monochromatic cutesy pink or black mesh...hm, which would I choose?
The real problem is that JoAnns knit fabric selection is not very good. It has some OK plain colors, but they are $14.99 a yard! I found some really nice combinations on Fabric.com for much cheaper, and that fit in with my Fall Palette.
OK, orange didn't actually make the cut, but it is one of my favorite colors. Sadly, it has to be just the right carroty orange to look good with my pinky-yellow complexion.
Egads, prints on prints? I may be taking a cue from Oona's style.
Do you have any knit top patterns that you love? I'd love to pick up some more.