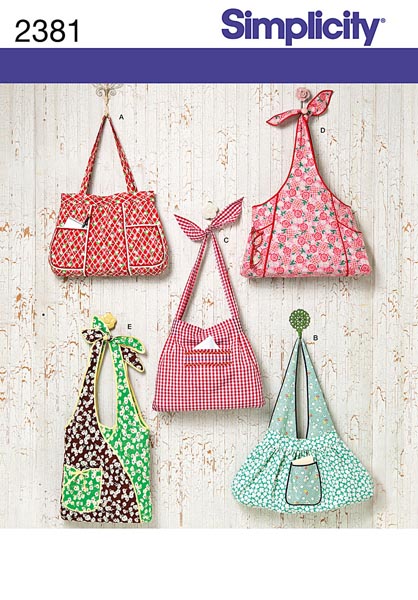 I've been bad about posting my photos daily, and I even missed one day's photo but at the same time I am doing better at Me-Made-Month than ever! Go figure. I also have yet to put up my Summer Essentials SewAlong list, but I'm making better headway than last year!
I am super excited because today is shopping day at JoAnns! I'm limiting myself to one trip a week because gas prices although even once a week seems somewhat lavish in writing. I need to pick up bias tape and thread to finish trimming Simplicity 2381 (lower left view). My own 99 cent tote bag I bought in Quebec at the Gap has pretty much bitten the dust. Luckily, Gutermann threads are on sale!
I want to also find some printed cotton for my Gunne Sax dress, and they had a giant stripe cotton that I was thinking of making into some pants. Since I am lacking in bottoms now for MMJune, having somewhat cured my tops problem, I'm hoping to make 3 more bottoms, probably one skirt, one pair of pants and another Ruby.
But enough blathering, and onto my Me-Made-June photos. I apologize, because it is a REALLY long winded post, but I promise it is worth reading! Why? Because it includes A&W, near wardrobe malfunctions and a run in between cheese dip and a white trench coat (that I was wearing).
Day 8: top - Colette 003, shorts - Bill Blass, necklace - handmade by my best friend, flip flops - Old Navy.
I started out with my more 1920s ensemble of cream skirt and Sorbetto top for doing some sewing, but then switched to this because my mother took us to the beach for a picnic, seeing as how temperatures had gone above 90. It was in a historic district of Wickford, but check out the modern cement monstrosity behind my head! It is actually a house, not some weird building.
Pros: Is a good casual-dressy top, this beach look I did not like as much. No sleeves, so good in the heat.
Cons: Has not magically lost it's boxiness.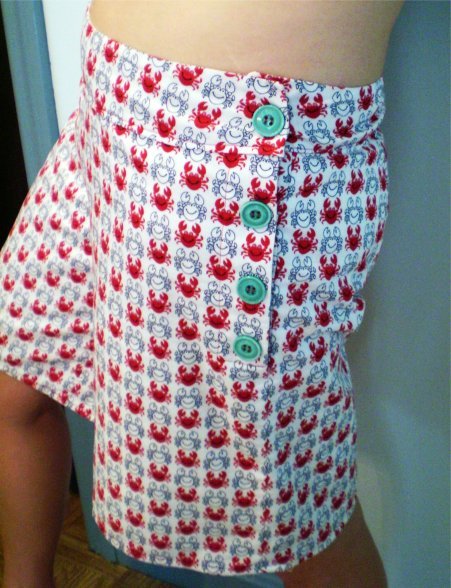 Day 9: shorts - Burdastyle Ruby
This is the day I didn't get to take a photo because I worked 9:30-5 and then had to drive to Gloucester for CPR training from 6-9. I was late because I stopped at the A&W for supper and they were swamped, with only two workers. Never mind that it is an old-fashioned car-hop setup. So I risked life and limb through lightning, thinking that if I ordered at the window I might get my burger sooner. We'd been having some crazy thunder storms from the heat and I drove right into one, so I snapped this photo.
Day 10: top - New Look 6895, capris - Talbots Petite, necklace - Wet Seal.
Worn to work, after making pleats in the neckline on top of my shoulders to pull up the neckline. However, I still had to safety-pin it to my bra straps to prevent wardrobe malfunctions.
Pros: So light and cool! Also, I love the femininity of the neck ruffle. Can dress it up or down.
Cons: The armsceye is cut high, which means unfortunate sweat stains will happen. Also, see above note on safety-pinnage.
Day 11: top - Simplicity 2364, Jason's top - Bugatchi
My middle sister and I end up accidentally matching quite frequently, but it happens from time to time with my boyfriend as well, so when he showed up in a crazy striped shirt as well, he had to be included in the photo. Worn to work, only this time I paired it with grey pants and green converse.

Pros: Can be worn in hot or cool weather (it dropped down to the 60s).

Cons: The colors aren't ideal on me...they are a little too neutral and close to my skin tone.
Day 12: dress - Butterick 4022 (1974), cherry necklace - gift, shoes - Nine West.

Worn to my first ever Tonys (the theatre awards) party! I sewed it the morning of in 3 hours (although I didn't hem it yet). I made it specifically to go with the crazy silver sparkle disco shoes. I made this previously without the hood, and I have to say I didn't think I would love the hood as it closes up the neckline but I was wrong. It goes great with converse for a sportier look.
Scary story - I brought cheese dip to the party in a casserole dish wrapped in a towel and some Woodchuck hard cider. I balanced the cheese dip on my hip only to find that when I got up to the party, it had tipped and leaked onion-stinky cheese grease ALL OVER the front of my WHITE Calvin Klein trench coat and a tiny spot had leaked through onto my dress!

Pros: I love the hood and the comfort of knit fabric.

Cons: Because I chose a cotton-rayon blend, this version requires some serious undergarments - girdley underpants AND a slip.
Day 13: top - Simplicity 2415 (2010), pajamas - Mudd, necklace - Peyote Bird.
This was what I did after work! I was so tired from the party, as my usual bedtime is around 9:45 and I didn't go to bed until 2am both Saturday and Sunday night. Plus, I've got a touch of a cold. Boo.