I was not as adventurous in my embellishment as I could have been, but even this was going outside my comfort zone. For me, embellishment is frequently an afterthought that generally ends badly.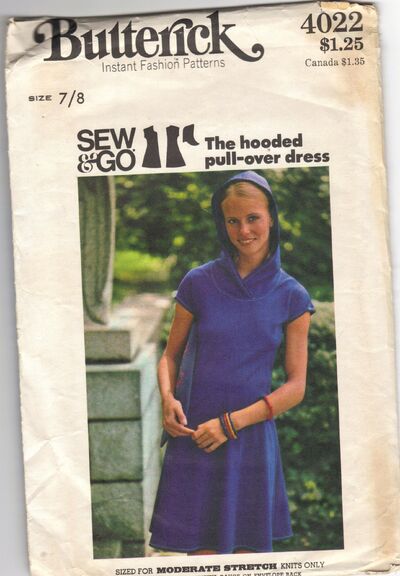 I had just received this pattern in the mail and knew it would be perfect...minimal time to sew the garment and then I could expend my energy on embellishment.
Pattern: Butterick 4022 (est. 1974) $4.24

Fabric: Navy knit, 100%cotton, from an old sheet left at our beach house.
Notions: Ribbon from RTW garment, felt from old craft projects, piping from old sewing projects.
Time: Approx. 4 hours
I really like this pattern. It is flattering and it feels like a "Sew and Go" pattern. After all, this might be the first SW challenge where I wasn't finishing on Sunday! I obviously omitted the hood this time 'round but I do want to make a hooded version as well. Possibly in red!
I had a few snags, of course. I cut one of the front pieces (there is a front center seam) on the wrong side of the fabric and had just enough to cut a second. I also managed the sew the piping on so that it joined in the front. Brilliant. That was the most frustrating of my mistakes but it was still minimal. The flowers were easy enough...I used a Martha Stewart tutorial I saw in an old magazine. They are teal, light blue and grey. The best part is that it is flattering, comfortable AND work wearable. A total winner!