I have been so busy that I never got my photos up here for the Sew Weekly "Kidding Around" challenge. I don't love them...it was windy so it was hard to get good pictures. I want to re-do them before I put it up on Burdastyle.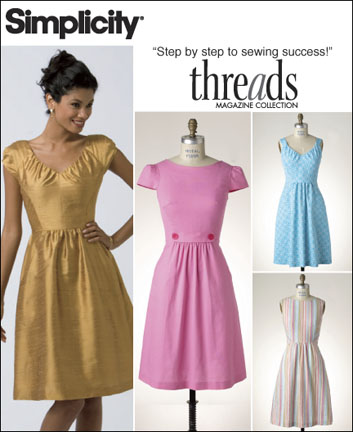 I used the popular Simplicity 2591, which I have had in my stash for awhile. I used my slopers to alter it (although I accidentally forgot to add seam allowance in the back, thinking it was a side zipper! Because of how I altered it, the boatneck wasn't really there anymore, so I made it a scoop neck. It fits like a glove and I love the pockets. My one complaint? I added height to the bottom of the armholes and now they are a little tight and chafe.
I took the top photo at the same benches where my original inspiration photo was taken. The second was taken at my Grammy's house.
I bought the fabric because it reminded me of these crazy animal prints I wore as a child (see photo above - those are bunnies in clothes). This specific purple dress, which I still have, was made by my Grammy. I kept with the jumper style and lined the pockets with purple fabric to match the original dress.
In these next two, you can see the underlined bodice/pocket facings. I underlined to stabilize the quilter's cotton. In itself, q.c. is pretty stiff, but I wanted it to be super structured. I also managed to use up some old scraps in the process! I had planned to add a skirt lining later, but it is poofy enough on its own and I don't need it in place of a slip during warm weather. So...I skipped it!
My vintage zipper! Got it for $.69 at Savers.
I was beginning to wonder if Me-Made-May was happening...well it isn't, but Me-Made-June is! I'm very excited because I think the Sew Weekly challenges are going to help me out a lot in preparation.
'I, Lisette of WWNDW, sign up as a participant of Me-Made-June '11. I endeavour to wear
one handmade item each day for the duration of June 2011'