I have been dying to show off this peacock dress, but first my MMM Day 14 photo! I got harassed last night when I went to a theatre show in which a bunch of my old friends were involved. Imagine my surprise when one of them asked to see what I was wearing that I had made! So I'm going to be extra fastidious about MMM from now on.
OK, on to the good stuff! I was inspired to make this dress after seeing this version on the blog Green Apples.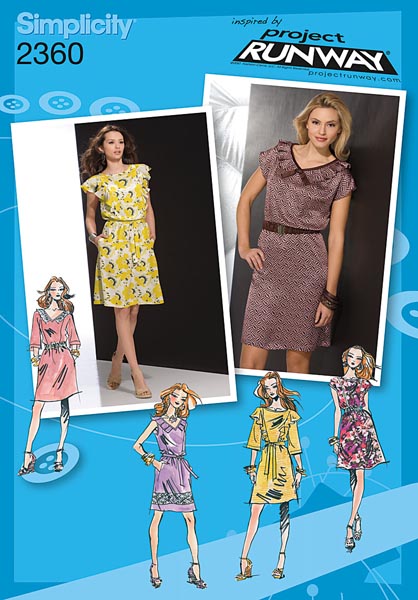 Pattern: Project Runway Simplicity 2360 (sz. 14)
Fabric: 100% Polyester georgette? from Jo-Ann. I think the Robert Kaufman line.
Duration: Started around January 2011 and finished at the end of February 2011.
Pattern Rating: 10! Mostly because I didn't need to shorten the bodice or neck to shoulder length, hooray!
Alterations: I made several alterations. For starters, I omitted the pockets because I was using such a light fabric. Second, I did not put elastic in the waist as I wanted to be able to play with how the dress would sit on me when tied at the waist. Judging from other people's versions that seems to be the thing to do.
Because I made it in a sheer fabric I self-lined it. This means I made a whole second dress and then instead of using a bias tape around the neck, I sewed the two together and dropped the lining in. I think this may be why the neckline bubbles a little sometimes…it lacks stability. I may go back and add it. I did keep the bias binding on the armholes, but made it out of lime green satin. Lastly, since the sharp curve of the flounce meant that my 1/4" hem foot wasn't grabbing the edge nicely, I hemmed it again over the previous hem. Next time I think I'll just do it by hand though.
What I Learned: Stabilize that neckline! Also, a french seam can be done, even on a princess seam in sheer fabric without puckering. Hand hem flounces cut on the bias. Last, but not least, use a longer stitch length with sheer fabrics. I went up to a 3 length, otherwise the stitches would pucker the fabric.