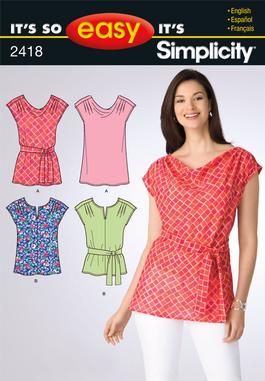 Remember those blouses I made for Annie, and how I swore up and down that I was finally going to make one? Well I did! And it was even better than I imagined it would be!
Fabric: Silk twill? It is a total guess, because I wasn't the one who bought it.
Pattern: Simplicity 2418 (see on left).
Time Duration: 1.5 days, but I hand hemmed everything!
The Process: As before, I made view A (what's on the model) but I opted for length B as I'm a petite size. I omitted the tie belt simply because I didn't have any more fabric! Where I could hand sew instead of topstitching, I did, and it took ages (in other words, several episodes of Rockford Files, The Incredible Hulk, and Knight Rider) but it was worth it. I whipstitched EVERY SINGLE edge.
What I Learned: I really need to layout/cut more carefully and probably invest in a rotary cutter and mat. My back piece was a little wonky. I also think I might shorten it next time because it has lengthened over time, being cut on the bias and all. I'd even like to try it without the gathers in the back.