Bias-cut garments are said to be some of the most difficult to sew and yet they are a staple of a 1930s wardrobe. So for Annie, set in 1933, I had to suck it up and try something new. On top of assigning myself four bias-cut sewing projects I also had to tackle slippery fabrics for the first time. After all, evening gowns were not made of quilter's cotton! So it was off to the Jo-Ann's for some costume satin and charmeuse.
-A bias-cut evening gown from 1940 converted to an evening gown-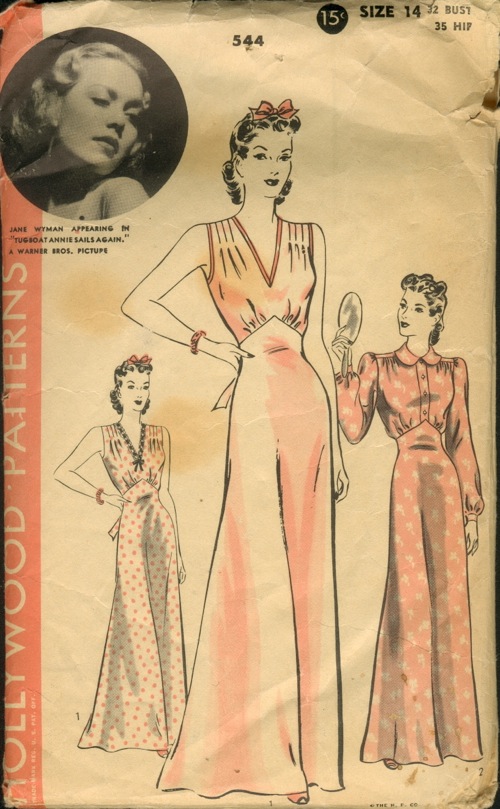 Courtesy the Vintage Pattern Wikipedia.
I am in the final stages of finishing this project but I thought I would show you some progress shots. It is for Grace Farrell, Mr. Warbucks secretary, as her Christmas dress.
Note: It looks extra blousey because I had to pin up the top so the skirt could hang before hemming.
Fabric: Parachute Purple Crinkle Charmeuse from the Midnight Jewels collection, 57", at Jo-Ann. Currently on sale ($4.79/yd)! I LOVE this fabric and even went back and bought some more in the teal colorway. Its only downfall is it gets a bit static-y. I originally had a green satin but it wasn't wide enough for the skirt piece without having to piece in a corner. Casey from Casey's Elegant Musings assured me that it wouldn't look out of place but I didn't love the green color all that much anyways and so back it went.
It has a gorgeous tie-back which I made from black satin. I re-drafted it so it was twice as long as the pattern originally had it for a dramatic, almost floor-sweeping length.
PROJECT II/III/IV: Simplicity 2418
-3 sassy bias-cut blouses for some swinging radio sisters-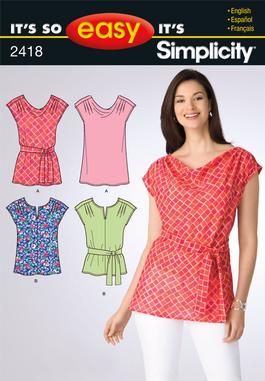 I noticed that this patterns looks suspiciously like Simplicity 2594, only it had less sleeve options and was much cheaper.
Fabric: Costume Glitter Satin from Jo-Ann in Teal, Cornflower and Green Glow. Since the Boylan sisters are sponsored by Oxydent, I went with toothpaste colors! I also really like this fabric, so much so that I plan on making my own version of this shirt with this fabric (minus the glitter).
I've only made one up yet, the one in teal but it came out delightful and only took one night and one morning to complete, which included tracing a new copy of the pattern.
The best part is it is designed so that you don't end up with raw seams on the inside, side seams excepted. So I just used my 1/4" hem foot on those.