I'm selling off some of my patterns at
my Etsy
, so go check 'em out.
Marina (what a lovely name!) at
The Mome Rath
has quite generously given me a "Haute Mess Award". So you lucky gals get to learn 7 more things about me.
1. I spend money as though it were going to burn a hole in my purse. This will someday give the Boy an ulcer.
2. I love to play pool. I used to be really quite good but I don't have time to practice anymore.
3. Even though blue is my favorite color, neutrals come in a close second. Something about mixing brown, black, white, grey and navy is addicting.
4. If I could wear red rain boots every day, I would, because they go with everything!
5. Toast is my favorite food. I love it with butter, jam, cream cheese, peanut butter, you name it.
6. I collect antique/vintage school texts.
7. "Abracadabra" by Steve Miller Band is my current music addiction.
Okey-dokes, on to the more interesting stuff, the sewing! While I have the to-sew-list, I needed to clear out my sewing boxes first. In order to prevent overwhelming myself, I have four
oversize photo boxes
from Ikea in which I store sewing projects. It is an excellent way to organize and prevent losing pattern pieces (or whole patterns, as I have done) and stop myself from cramming projects into a corner. This outfit is one of said projects, originally intended for the Mad Men sewing contest way back in October, but didn't have time to finish.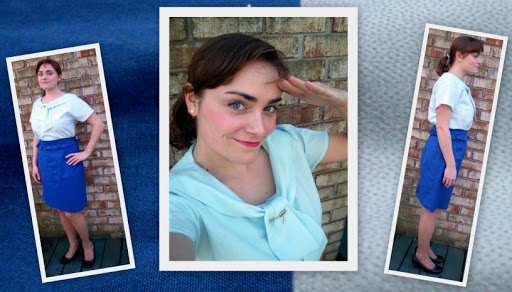 Channeling Joan, but still a total Peggy!
I used Simplicity 3358 (1960), which I highly recommend, and McCalls 5082 (1959) from the 60s that was still way too long. I added the ruffle (made out of what I chopped off the too-long hem) myself, and am naming it the "Best in Show Skirt". Now all I need is some warm weather and to add some pockets to the skirt.
What I Learned:
1. Alter the length of a skirt pattern before cutting it. That way the cute kick pleat won't get chopped off!
2. Blouses are much better when made in a properly draping thin cotton (I used a crepe cotton).
3. Zippers come out much better when hand sewn.