This will be my concluding post for FESA this year, as my Lola dress came out too small and my plaid cape is cut out but won't be done for ages. This dress, however, was completed two years ago with the exception of a final fitting, some missing lace trim and a hem job.
It is my first attempt at a Gunne Sax-inspired dress and I'm pleased with it. Gunne Sax dresses/patterns usually have a lot of fiddly
heirloom

details and complicated construction techniques. This was no walk in the park, but it was definitely a good introduction to sewing this style. We took advantage of my boyfriend's family's cabin for photos, since it was also built in the early '80s and decorated with a rustic look that provides a wonderful background.
The fabric was a quilter's cotton but it has a historical feel to it in my opinion. I regret not buying more and being able to do a fuller skirt.
I feel very Audrey Hepburn in this photo (I think it is the dirndl plus the shadow giving me the illusion of a tiny waist)!
This dress is good for knitting and porch swinging...
...as well as fireside. It is perfect for fall because it can be worn with a cardigan or just sleeveless or with a peasant blouse underneath, so it works with whatever weather comes your way.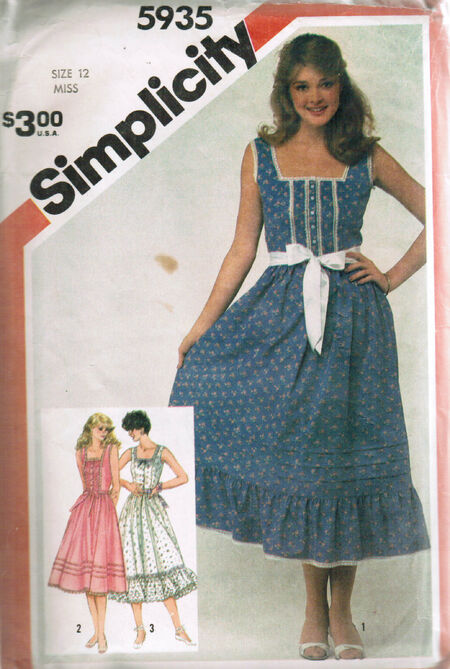 Pattern:
Simplicity 5935 (c. 1983)
Size: 14
Rating: 4/5
Fabric, etc.: Quilter's cotton from JoAnn's, crochet lace cotton trim from JoAnn and Simplicity.com, buttons and snaps from stash, thrifted sheet for lining
Cost: Don't know anymore since the project is so old
Time: Two years
Notes: I'd like to try a muslin straight from this pattern someday, because when I made mine I modeled it off an old sloper - a bit too old, in fact, as the bodice didn't fit at all. My friend helped me fit it but even after sewing the final bodice it was much too big and even a bit too long. The back darts now go all the way up to the neckline!
I opted for snaps instead of functioning buttons. This allowed me to use tiny buttons that look nice but would otherwise be impractical because of the many layers at center front. I omitted the giant ruffle and the bow sash. I think next time I would also make a fuller skirt and use horse hair in the hem. The hem, by the way, on me is extra deep since I'm short.