First crafted christmas present done, and man am I excited to show it off! You see, I bought the materials and the book Knit Your Own Dog by Sally Muir and Joanna Osbourne last year, thinking I could whip out a mini version of James' dog Paisley. Thinking back about my naivete, I laugh in a slightly crazed, maniacal way.
This teensy, weensy stuffed dog that can sit in the palm of my hand took me 3 months to make, and it is not because I spent 10 minutes here and there knitting. No, no, no, friends, each individual piece took hours to make (sometimes re-make), assemble, stuff and sew. I stopped keeping track around 30 hours.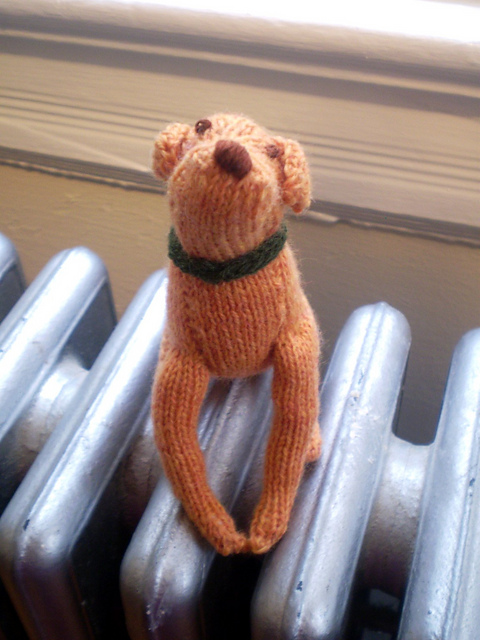 The lowest point in this project was when I began seiwng and stuffing, only to realize the body and head resembled a pig much more than a labrador.
If you note how wonkily the back curves, you'll see what I mean. With the folded ears, stubby nose and slightly reddish tone, it was definitely a wee pig.
That worked out though, since in the end, after a many hours of pinning the legs into various positions and re-stuffing them with pipe cleaners for stability, it still wouldn't stand up. So the back curve works just fine for a seated dog! And the embroidery on the face, thank goodness, took it out of pigland.
Paisley, of course, couldn't care less, but I love how it came out in the end, and I think James will too.
Pattern: Labrador (Knit Your Own Dog by Muir and Osbourne $14.95 on Amazon.com)
Rating: 3/5
Yarn: Less than 1 skein Knit Picks Palette in Golden Heather, 100% Wool, Collar: Premier Yarns Serenity Sock Weight
Cost: Around $20
Time: I estimate 50+
Notes: In my opinion, this would be an intermediate pattern if you don't mind some mistakes in your work, but an experienced pattern if you want it perfect and looking just like the one in the book. For example, the top of the body of mine was too long in comparison to the tummy panel, even though I followed the directions. I think a more experienced knitter might have figured this out earlier. I did figure out that the tail was too short though! You also want to be pretty good at seaming, so it is invisible where you've attached the legs. I think there were short rows somewhere in the pattern. Also, the construction notes are pretty vague (I remember having a lot of trouble with the head), so you'll find yourself looking up tips from others who have previously made it.