Lovely friends, March is driving me crazy. First it was so warm that I pulled out all my shorts and then it dumped a snowstorm on us. Now it is just rainy and cold. Before my knitter's elbow started acting up again though I managed to get some sewing done, just nothing that is an actual finished garment.
I decided to try something I'd never done before: sew a bunch of muslins and then decide what I really want to sew. Crazy? NOPE. I've found it to be a great way to sew during a month where I can't get decent photos of finished garments anyways, yet still feel accomplished. Really, it was just an excuse to sew fast and recklessly! I lucked out with a huge muslin stash from one of the theatres we worked at - they use it to cover flats and always have odds and ends to give away.
Simplicity 4981 is one I just dove into with the fashion fabric, because now I pretty much know how certain 40s patterns will fit me. It is darling and I can't wait for a warm day to photograph it. All it needs is hemming and a button. As my friend put it, it is very retro lady archaeologist. I can see making several of these in the future.
My next muslin was not so successful. Remember this from my Vintage Pledge post? Well that bodice was so awful I couldn't even photograph it. The darts are all off in every way, the zipper opening needs to come all the way to the top of the side seam and worst of all, it is mysteriously giant in width at the top. So my bust was squished beyond belief, and it seems this pattern was drafted for the bust to be well above the armpit! I'm better off drafting my own bodice for this one, but I don't think it'll be anytime soon.
Thank goodness my Simplicity 6912 (1960s) muslin was a home run (no adjustments, what!?) or I might have gotten discouraged. I think this will be my Spring For Cotton project. I adore the bell sleeves!
Somewhere in the middle of all this I took a break to re-organize my fabric in boxes. I came across this dress I made in 2009, which now fits. It was too small at the time, so I tossed it aside and stupidly later cut a piece out of the back to make an apron. I'm hoping to patch it with the yardage that I also found, re-do my awful bias binding and have a cute housedress! Make do and mend, folks!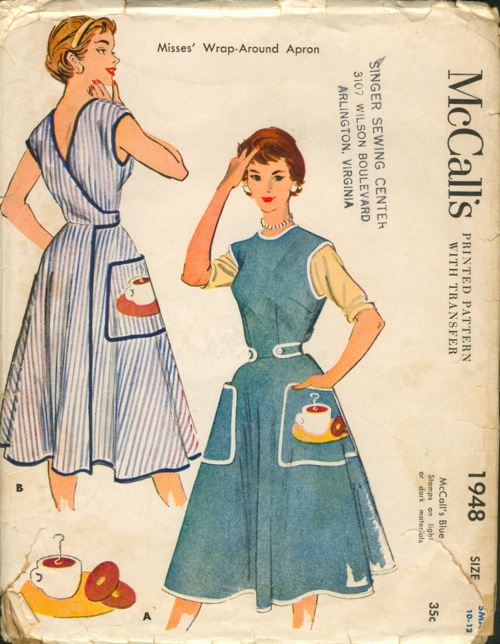 Bored with such conservative offerings, I busted out Simplicity 1365, a reprint of a 1970s halter top. It wasn't a loss but there was some fitting to contend with. I need to take out some length in the waist but make the peplum longer. There's also a lot of gappage in the side under the arm that I need to work out. I need to figure out then if I want to keep the tie back version or switch to the buttoned panel. The tie is sort of cute, but because it is lower than the bust line it doesn't keep the waistband tight under the bust - resulting in breasts slipping into the waistband, ack!
Last but not least I started a wearable muslin of Sew Caroline's newest pattern, the Downtown Tunic. I was drawn to it because it reminded me of something I might pick up at PacSun, one of my favorite stores. Basically no pattern companies cater to the beach/surfer/skater chic crowd, which is a big part of my wardrobe. I would have had it done by now, but the "skirt" that you attach to the bottom didn't line up so I need to take it in before re-attaching it. However, I'm almost more in love with the t-shirt itself, all I need to do is even out the hem to get a t-shirt that is perfect for me.